JIMMY CARR OKINAWA
THE BEST OF, ULTIMATE, GOLD, GREATEST HITS TOUR
03.29 (Fri) DOOR: 18:30 START: 19:30
Comedy Show

Jimmy Carr
DoubleTree by Hilton Hotel Naha Shuri Castle place
JAPAN / OKINAWA
沖縄県那覇市首里山川町1-132-1
+81-98-8620123
JIMMY IS GATHERING A SELECTION OF HIS VERY BEST JOKES ALONG  WITH BRAND NEW MATERIAL FOR THE ULTIMATE COMEDY SHOW.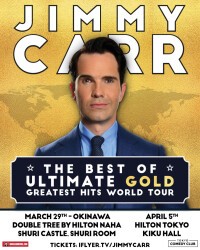 Due to popular demand Tokyo Comedy Club will be joined by A Comic Soul in bringing back one of the UK`s most distinctive comedians in JIMMY CARR. This will be the last time to see him before his new world tour!

One of the most prolific joke-tellers of recent times, Jimmy Carr announces a mammoth World tour like no other. With an astonishingly vast repertoire and lightning-sharp delivery honed from fifteen years at the top, Jimmy is gathering a selection of his very best jokes along with brand new material for the ultimate comedy show.

A man who has devoted his life to crafting perfect jokes and has left a trail of laughter in his wake, Jimmy Carr's new tour will distill everything we love to laugh at and be shocked by, into one incredible, unparalleled night of entertainment. Jimmy Carr has been on the stand-up scene for a decade and a half. In that time he's performed 9 sell-out tours, playing nearly 2,000 shows to over 2 million people across 4 continents. He's won the British Comedy Award for 'Best Live Stand-Up Tour' and been nominated for the Perrier Award. Now all that experience is being put to good use – you can see all the greatest material from his extraordinary career in one show - this is the very best of Jimmy Carr.

'The Best Of, Ultimate, Gold, Greatest Hits Tour' kicked off in May 2016 and will visit every corner of the world. The event in Okinawa will be held at Shuri Room at Double Tree by Hilton Naha, Shuri Castle on March 29, 2019.
Event by Tokyo Comedy Club